CTOs & IT Managers Share Their Stories of Success with Cloud Computing Case Studies.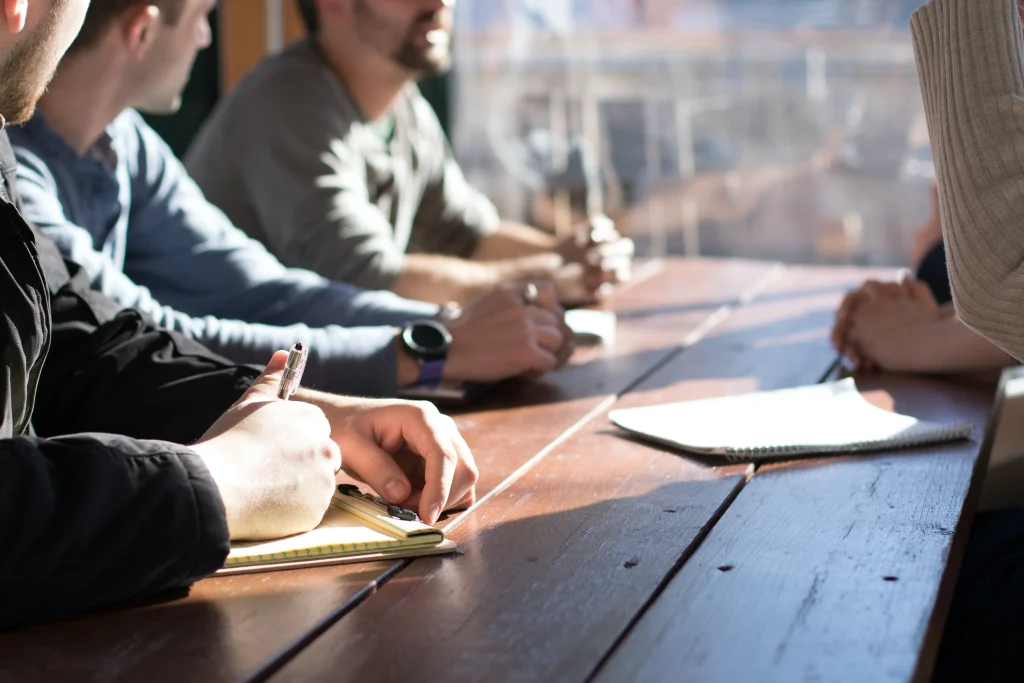 This article aims to serve as a guiding light for businesses, regardless of their size, who are contemplating migration to the cloud or harboring doubts about its potential benefits.
Delving into the triumphs of Eight diverse businesses, though anonymous, it unveils the untapped possibilities of cloud adoption.
Whether you are a large enterprise seeking scalability and innovation or a small company aspiring to streamline operations, these real-life success stories showcase the transformative power of cloud migration.
As we navigate through the experiences of these enterprises, the doubts surrounding cloud adoption will dissipate, replaced by newfound confidence in harnessing the boundless advantages of this technology.
We will be stressing 4 Aspects.
1. The State of the Architecture Before and After Cloud Adoption
2. Impacts or Benefits of Cloud Adoption
3. What Cloud Enabled for These Businesses Which They Couldn't Achieve Previously
4. Have They Achieved Real ROI (Return on Investment)?
So Here we go
Cloud Computing Case Story 1. The speed that the cloud offered him made the difference.
This mid-senior level person thinks that the speed of cloud computing gave his company a significant competitive advantage. By moving their workloads to the cloud, they were able to get their product to market much faster than their competitors.
He also shared that the cost savings of serverless computing are significant. By moving their lighter workloads to serverless computing, they were able to save a lot of money.
The question he asked the upper management goes like this
1. What's it worth to you to beat your competitors to market by 3-6 months?
2. What's it worth to not have your competitors beat you to market by 3-6 months (cause they're in the cloud and you're not)?
This very thought made them consider the cloud.
His company estimates 80% of their workloads are under 50 hits/sec. Moving to lambda dynamo for a lot of that, means notable savings for them.
Cloud Computing Case Study 2. Cost savings With Cloud Disaster Recovery
Another CTO shared that it's the cost savings that was what really benefit his company benefited.
He was saying that the cost savings of cloud disaster recovery (DR) can be significant, even if you don't need to recover your data very often.
His company only deployed software twice a year, so they didn't need a Disaster Recovery solution that could recover their data instantly.
However, they were still running pairs of data centers for DR, which was very expensive.
By shifting to the cloud, they were able to implement a much more cost-effective DR strategy called "pilot light DR."
Pilot light DR means that you only have a small amount of infrastructure in the cloud, which is only activated in the event of a disaster.
This is much cheaper than running a full pair of data centers, and it's still enough to get your business back up and running quickly.
So, even if you don't need to recover your data very often, cloud Disaster Recovery can still save you a lot of money.
Read Our Case Studies - Activelobby Case Studies
Cloud Computing Case Study 3. How this company turned a 200K Project into 5M with Cloud
The company was originally using on-premises infrastructure, which was taking them 6 months to build and deploy new features.
However, after watching their cloud infrastructure team, build an environment in AWS in just 2 weeks, they realized the massive benefits of speed.
With cloud infrastructure, the company was able to:
Test features faster: They were able to spin up new environments for testing in minutes, rather than hours or days.
Develop features faster: They were able to deploy new features to production more quickly because they didn't have to worry about provisioning and configuring infrastructure.
Have more confidence in their deployments: They could mimic their production environment 1:1 in the cloud, so they were confident that their deployments would be successful.
The company was so impressed with the benefits of cloud infrastructure that they increased the size of their projects from $200k to $5M eventually.
And their developers often realize how much better their lives are when everything is automated/reliable/predictable.
This is because cloud infrastructure can provide a number of benefits for developers, such as:
Automated provisioning: Developers don't have to manually provision and configure infrastructure, which can save them a lot of time.
Reliable infrastructure: Cloud providers offer a high level of reliability, so developers can be confident that their applications will be up and running.
Predictable costs: Cloud providers offer pay-as-you-go pricing, so developers can control their costs.
When developers are able to focus on their code, instead of infrastructure, they can be more productive and deliver better results.
Case story 4. Getting Enterprise features without the enterprise price tag.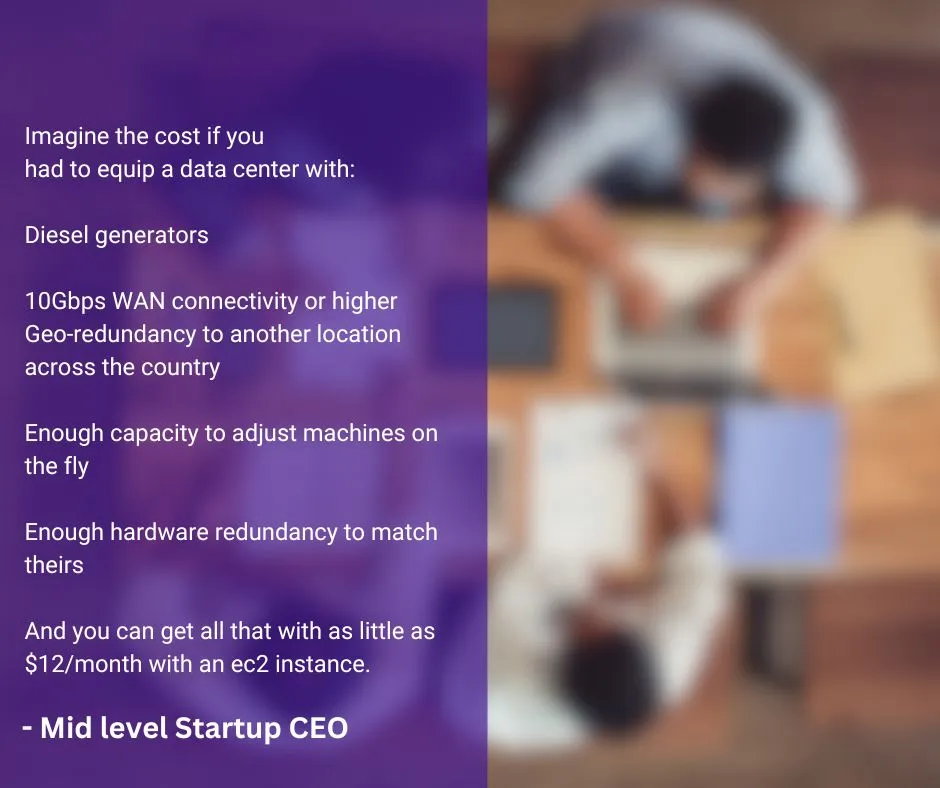 A mid-level Startup CEO quoted –  
Imagine the cost if you had to equip a data center with:
Diesel generators
10Gbps WAN connectivity or higher
Geo-redundancy to another location across the country
Enough capacity to adjust machines on the fly
Enough hardware redundancy to match theirs
And you can get all that with as little as $12/month with an ec2 instance.
Cloud Computing Case Study 5. How cloud helped our friend amidst the storm
The company's workload was split between the public cloud and a physical data center in Maine.
When a storm hit last week, the company's dedicated engineer was at work monitoring the diesel generator.
The engineer lost power at home but he had to stay monitor the situation at the data center, not his home.
The company's B2B contracts required 95% uptime, which was difficult to achieve with a single data center.
The public cloud servers, however, were unaffected by the storm. Clients were able to access the site as usual.
Running servers in the public cloud was about 5 times cheaper than maintaining a dedicated engineer.
The company decided to move all of its workloads to the public cloud, which made it more resilient to outages.
This experience shows that the public cloud can be a cost-effective and reliable way to achieve high uptime.
All these success stories but there's a catch
Cloud Needs Optimization
Cloud Computing Case Study 6. Cloud Optimization Story
The company was in a bind. Their Managed Service Provider (MSP) contract was ending, and they had to move their infrastructure to the cloud in a hurry.
They didn't have time to do a proper migration, so they just spun up a bunch of EC2 instances and provisioned a ton of IOPS.
This worked in the short term, but it was very expensive. They were paying for way more resources than they needed.
Later external professional was hired and they started by identifying all of the unused resources.
they then helped them right-size their EC2 instances and reduce their IOPS provisioning.
After the optimizations, the company was saving 50% on their cloud spend.
The company was very happy with the results. They were able to save a lot of money without sacrificing performance.
The story of this company is a common one. Many businesses rush to the cloud without a plan, and they end up paying for more resources than they need.
This is why it's important to take the time to do a proper cloud migration. If you don't, you could end up wasting a lot of money.
Here are some tips for avoiding high cloud billing:
Do a proper cloud migration
This means taking the time to understand your needs and right-size your resources.
Use cloud monitoring tools. 
These tools can help you identify unused resources and track your cloud costs.
Take advantage of cloud discounts. Many cloud providers offer discounts for long-term commitments or for using underutilized resources
Automate your cloud billing.
This will help you stay on top of your costs and avoid surprises.
Cloud Computing Case Study 7. A multi-cloud success story
This particular organization runs a multi-cloud environment. They have an on-premises cloud for engineering and QA work, and they use AWS and Azure for production and staging.
What runs where depends on a few factors:
Requirements: Some workloads have specific requirements that can only be met by a particular cloud provider. For example, if they need to run a workload that requires high availability, they might choose to run it on AWS or Azure.
Cost-effectiveness: Some clouds are more cost-effective than others for certain workloads.
For example, they might find that running an on-premises cloud is more cost-effective for their engineering and QA workloads than running them in the public cloud.
In their case, they found that running an on-premises cloud was far cheaper than running a public cloud,
but that availability and other requirements required a public cloud for customer-facing applications.
So they use the appropriate infrastructure for the appropriate task,
rather than getting doctrinaire and saying "We will use every single available proprietary AWS service in order to be cloud-savvy!"
They believe that this is the best way to approach cloud computing.
They should use the best tools for the job, regardless of whether they are from a single cloud provider or multiple providers.
This approach allows them to get the best possible performance, reliability, and cost-effectiveness for their workloads.
Cloud Computing Case Study 8. This small business workload would not be possible without the cloud.
This small business spends only $40 a month on cloud infrastructure. They get a full REST API back end, React front end, and RDS database, all hosted.
They use HTTPS with an auto-renewing certificate. They run billing Lambdas nightly. They use Connect to allow their customers to access their accounts via the phone.
This would not be possible without the scale of the cloud. The tech would cost too much to build on-premises. In the cloud, however, their expert can just build it and be done.
This is an excellent example of how cloud computing can help even small businesses save money and get the necessary technology to succeed.
All these stories, so what do we call them in short? – Infrastructure as Code?
Conclusion
As you have seen from the experiences of these CEOs, CTOs, and IT managers, cloud adoption can be a great way to improve your business's agility, scalability, and cost efficiency. However, it's important to do your research and choose the right cloud provider for your needs.
At Activelobby, we have a team of experienced cloud migration and cloud managed services experts who can help you make the most of the cloud. We can help you assess your current IT environment, develop a cloud migration plan, and migrate your workloads to the cloud.
We can also provide ongoing managed services to help you manage your cloud environment, optimize your costs, and ensure your security and compliance.
We understand that cloud adoption can be a complex process, but we're here to make it as easy as possible for you. We'll work with you every step of the way to ensure that your cloud migration is a success.
If you're ready to start reaping the benefits of cloud adoption, contact us today to learn more about our cloud migration and managed services solutions.
GET STARTED WITH OUR CLOUD SERVICES
Read More Case Stories