Cloud Migration for Future-Ready Operations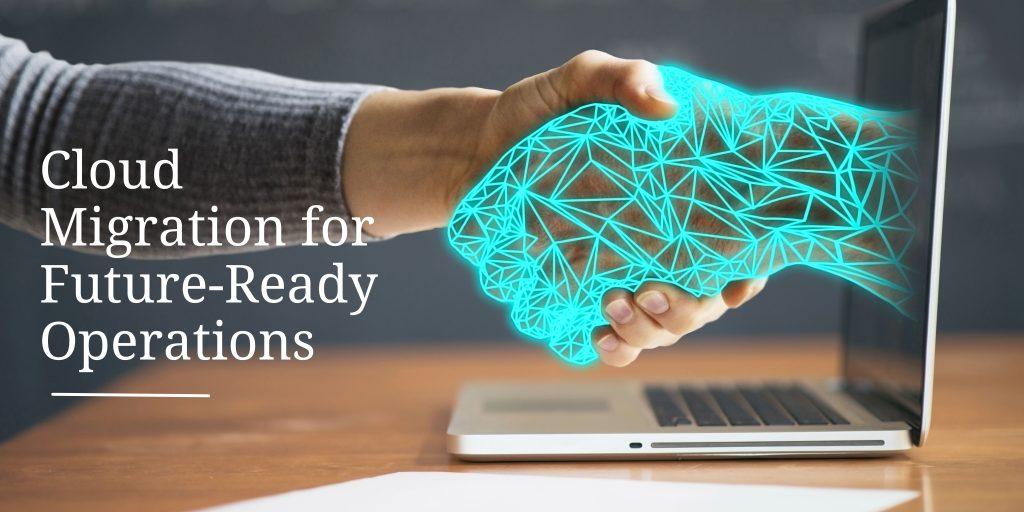 What is Meant by Future Ready Businesses?
A future-ready business is characterized by having a positive approach to the change in technologies and having a clear-cut strategy for the adoption of these technologies that can pave the way to business transformations. Such an approach can enable enterprises to adapt to the fast-changing business landscape. Future-ready business operations enable an organization to address it's emerging and ensuing challenges
What is Cloud Continuum?
It is an integration of services that are based on public, private, hybrid, and edge cloud solutions. Nowadays, businesses are mostly deploying a combination of cloud solutions instead of relying on single cloud services or instances that are based on public and private clouds. Cloud continuum, by bringing together all the cloud solutions enables business organizations to access the cloud from anywhere.
How Can Cloud Migration Enable an Enterprise to Make Their Operations Future-Ready?
1) Augmented Reality Cloud
Augmented reality can be identified as the vision of a physical process or environment through technological devices. Augmented reality helps in bridging the physical and the digital world. With an increase in cloud capabilities, the future of augmented reality will be based on the cloud. Augmented reality cloud solution facilitates the delivery of digital content and data over multiple devices to the end-users. Augmented reality cloud enables the storage and organization of data that constitute the physical world to be transmitted to the end-user via their electronic gadgets in real time. Augmented reality is being used and will be used in tons of use cases like education, medical practice, business logistics, retail, and manufacturing, to name a few.
2) Artificial Intelligence (AI)
AI has now become an intangible part and parcel of cloud solutions. Cloud-enabled AI capabilities can enable organizations to leverage these solutions without having to invest much in these technologies. Most of the top public cloud service providers like Google, enable end-users to run their complex databases in the remotely located cloud-based graphical processing units or GPUs.
Nowadays governments around the world are investing in AI capabilities. Most of the government services and the multinational national companies that have their operations spread across the globe are investing in solutions like cloud-driven AI virtual agents that enable the users of a service to get fast and instant redressal of their concerns.
3) Mobility
Cloud technology facilitates better and faster usage of mobile applications. This can enable the employees as well as the customers of an organization to access its applications from anywhere at any time. Mobility facilitates easier and faster migration of workloads across the different cloud platforms as well as paves the way for better performance of the applications by facilitating load balancing.
Mobility can thus ensure that organizations are not locked into any single platform and enable faster and easier adoption of technologies that do not require any explicit configuration requirements as is the case with using traditional IT models.
4) Serverless
Serverless computing solutions enable organizations to access IT infrastructure on demand without having to manage the infrastructure and thus achieve rapid growth without any significant capital investment. Such solutions enable enterprises to create applications faster without consuming any time or resource overhead. These solutions consume costs based on usage only and enable companies to eliminate any cost overheads as these architectures can be scaled automatically.
5) Cloud Automation
Nowadays more and more business workloads are getting migrated to the cloud. This has necessitated the need for better governance and management of the workloads. Automation can provide an optimum solution when it comes to the management of the different cloud platforms in the case of a multi-cloud architecture. Organizations can use automation solutions to get away with the need to execute manual and repetitive processes and enable better management and deployment of their workloads. Now automation solutions are increasingly used for tasks like monitoring, security, configurations, development, deployment, and resource allocation.
6) Fool Proof Security
Adopting the cloud can enable enterprises to leverage technologies that make their operations future-ready. But something that cannot be overlooked while leveraging such capabilities is security. Digital security is now gaining huge hype and importance driven by the fact that attackers are also now using these technologies to gain access to the digital workspace.
Most of the cloud service providers are now offering security as a service business solution in which the service provider integrates security services into an organizational infrastructure on a subscription basis more cost-effectively than most individuals or businesses can afford on their own as far as the total cost is considered. This ensures foolproof security as well as a cut down on the cost overhead.
Conclusion
Cloud is the interface that takes an enterprise to the future world of technologies that have a storehouse of unlimited potential capabilities that can not only transform the business operations but also enable an enterprise to stay ahead in the race to offer the best services to its customers.
Having understood the necessity of embracing cloud solutions, if you are on the lookout for cloud adoption, you can avail of our services. At Activelobby, we offer cloud migration solutions for enterprises who are wishing to make the journey to the cloud. We also offer management solutions for your cloud platforms.