Why Your Business Needs a Multi-Cloud Backup and Disaster Recovery Strategy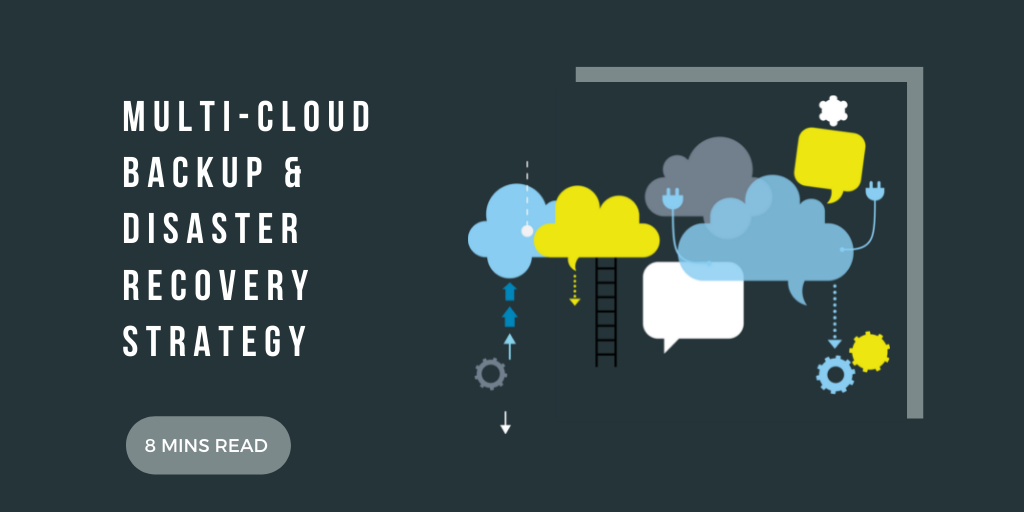 What is Multi-Cloud?
The multi-cloud approach refers to the use of more than one cloud platform to carry out your business functionalities. This approach is known as multi-cloud computing. Multi-cloud architecture facilitates organizations and enterprises to distribute their workloads across multiple environments and thus ensure better and continued access to their workloads, unlike a single cloud-based backup environment. Though multi-cloud refers to more than one cloud platform, it is more commonly associated with the public cloud architecture.
Multi-Cloud vs Hybrid Cloud
Hybrid clouds are based on both public and private clouds that are being deployed by an organization to avail the advantages of both. Multi-cloud is confined only to public cloud services and their monitoring. Hybrid clouds use on-premises storage, servers, etc to carry out functionalities such as monitoring, authentication, etc whereas in a multi-cloud environment, these resources are located in the cloud.
Importance of Having a Multi-Cloud Approach
Organizations that have their cloud services based on multiple geographies need to avail the services of multiple cloud providers. Most organizations that rely on the public cloud in fact use the services of multiple cloud providers. In a survey conducted by Gartner on public cloud users, it was found that 81 % of respondents were in fact using multiple cloud services. According to Michael Warrilow, the dominance of multiple vendors in the public cloud market, the organization's desire to avoid vendor lock-in, and the leverage of the possibilities of best-of-breed solutions are the main factors behind the surge in the popularity of multi-cloud.
Advantages of Multi-Cloud Strategy
Some of the advantages of adopting a multi-cloud strategy are.
1) Avoid Vendor Lock-in
Having a multi-cloud strategy helps organizations from over-relying on a single vendor. Such a strategy can help organizations to leverage the advantages offered by several service providers. Relying on a single cloud provider can enhance your operating risk as chances of services being coming down are very high due to their incompetence, disasters, etc. A multi-cloud strategy offers you several best-of-breed solutions.
2) Better Performance
A multi-cloud approach empowers organizations to maximize their performance by improving response time and reducing downtime. The multi-cloud approach allows organizations to select cloud providers irrespective of their operating zone or geographic limits. This can enable you to provide uninterrupted services, as you can access your data from anywhere.
3) Scalability
As a business grows so does its data and applications. The multi-cloud approach can enable enterprises to scale their existing cloud space depending on their storage and computation requirements. This enables you to save a significant amount of costs as you follow a 'pay-as-you-go' model.
4) Increased Resilience
The multi-cloud approach can offer enterprises better security, and enhanced disaster recovery. Relying on multiple vendors ensures that your operations won't be hampered due to natural disasters as these are confined to a particular region and impacts the operations in that region only. Even if one of the vendor's operations is affected and offers you a lower uptime, it will not affect your business functionalities.The multi-cloud approach lowers the latency, jitter, etc, and offers better options for remote repair options as you are availing services from multiple providers.
Multi-Cloud Backup
Backing up your data in a multi-cloud environment can ensure better upkeep and accessibility to your data. You can create multiple backups and they can be transferred to different clouds. This ensures no loss of data and better accessibility. Being multi-vendor in nature, this approach ensures that at least some of your vendors follow the 3-2-1 backup rule. According to this rule, you should have three backups of your data. Two backups should be on your local storage that uses different storage mediums and at least one located remotely on the cloud. Ensuring that your data is spread across multiple locations and service providers enables better business continuity even if one provider goes offline or provides a lower uptime. Accordingly, this makes multi-cloud disaster recovery much easier.
Disaster Recovery
Disaster Recovery (DR) in Information Technology (IT) envisages a strategy that ensures the safe upkeep of your critical data, applications, and hardware and thus ensures business continuity. Some of the common disasters that can hamper an IT business are natural disasters, cyber and malware attacks, equipment and infrastructure failures, power outages, etc. Disasters can badly hamper your business and revenue and its future prospects. Therefore, it is extremely important that you implement a DR strategy. According to a survey conducted by Spiceworks in 2020, 60% of companies are about to use cloud backup infrastructure by 2022.
Disaster Recovery as a Service
Though there are several disaster recovery mechanisms, the most commonly used is the Disaster Recovery as a Service (DRaaS). DRaaS is also known as Business Continuity as a Service (BCaaS). Drass is a cloud model that enables you to backup your mission-critical data and applications in a cloud environment and access all your resources even after the disaster by providing a DR mechanism. Just like other cloud computing models based on SaaS, PaaS, and IaaS, DRaaS services are also provided by dedicated third parties. The DRaaS service provider has a cloud architecture that is independent of the geography or operating zone and is less likely to be impacted by a disaster.

Operating Models for DRaaS
There are three operating models for DRaaS namely Self-Service DRaaS, Assisted DRaaS, and Managed DRaaS.
1) Self-Service DraaS
In this model, the client itself executes the DR mechanism. The vendor only provides virtual machines and backups.
2) Assisted DRaaS
Assisted DRaaS has some aspects of the DR being executed by the service provider and the other aspects being taken over by the client itself.
3) Managed DRaaS
In this model, the service provider ensures full responsibility for the DR. This model can be deployed if you are unable to manage the DR mechanism.
Benefits of DRaaS
Backup and Security

DRaaS provides an automatic backup mechanism and the backed-up data can be easily retrieved in case of an emergency. DRaaS service providers have the best compliance mechanisms like Intrusion Prevention and Detection Systems, Public Key Infrastructure (PKI), encryption, etc.
Round the Clock Access

A cloud-based model like DRaaS will be accessible from anywhere at any time. This enables an organization to manage and run its applications from any location through remote servers thus ensuring business continuity. Unlike traditional backup mechanisms that rely on physical storage devices that allow access only during working hours, a cloud backup allows you to access data backups on the cloud as long as you are connected to the internet.
Save Cost

DRaaS based DR mechanisms can indeed help you to save costs as compared to maintaining on-premise infrastructure. You need to spend a lump sum amount on the purchase and maintenance of hardware, servers, networking equipment, etc. Since the cloud backups have unlimited storage, you can scale your storage and thereby ensure that you only pay for what you use.
MonitoringDRaaS cloud backup mechanisms can enable organizations to track their usage and activity. It can monitor the health of all the associated devices. Automated alerts enable identification and diagnosis of potential threats like cyber trespassing, excessive load, running out of memory, etc.
Wrapping Up
A multi-cloud approach can help you to offload your burden by depending on multiple vendors. It can provide you with the best combination of services like storage, computation, backups, etc. You can cherry-pick the best service providers and ensure better business continuity.
Activelobby has an in-house disaster management policy. Our disaster and crisis management services use industry-proven tools and mechanisms that ensure the safe upkeep and protection of your data. Our Disaster Recovery (DR) mechanisms enable you to regain access to your IT infrastructure after crises like natural disasters, malware attacks, cyber spying, etc. We lay the groundwork for a proper DR mechanism before migrating your applications from on-premise or local storage to the cloud or from one cloud to another cloud. Our disaster management services provide you with appropriate DR mechanisms that include backups, standby servers, etc to ensure that your applications and data are not compromised. Our team envisages a disaster management plan which is followed by the execution of the DR process. We test and evaluate the DR process from time to time thus ensuring its reliability and compliance.
If you are thinking about cloud adoption and migration, Activelobby is at your service. We help you with the planning, adoption, migration, and management of cloud platforms. We provide you with the roadmap to facilitate a smooth transit to the cloud.
Our cloud services enable you to scale your workspace depending on your business requirements thus enabling you to save costs and resources by following a 'pay-as-you-go' model. We have best-in-class mechanisms that can monitor your cloud usage, diagnose potential threats and vulnerabilities, etc. We help you with the management of cloud platforms by offering remote repairs, troubleshooting services, configuration management, etc. Our cloud migration expertise enables you to have a hassle-free transit of your resource-constrained archives, inboxes, and workloads to the cloud. We implement a strong DevSecOps culture that ensures the best security compliance. Activelobby ensures that cloud migration and management will no longer be a daunting task for you.