What is Cloud Digital Transformation ?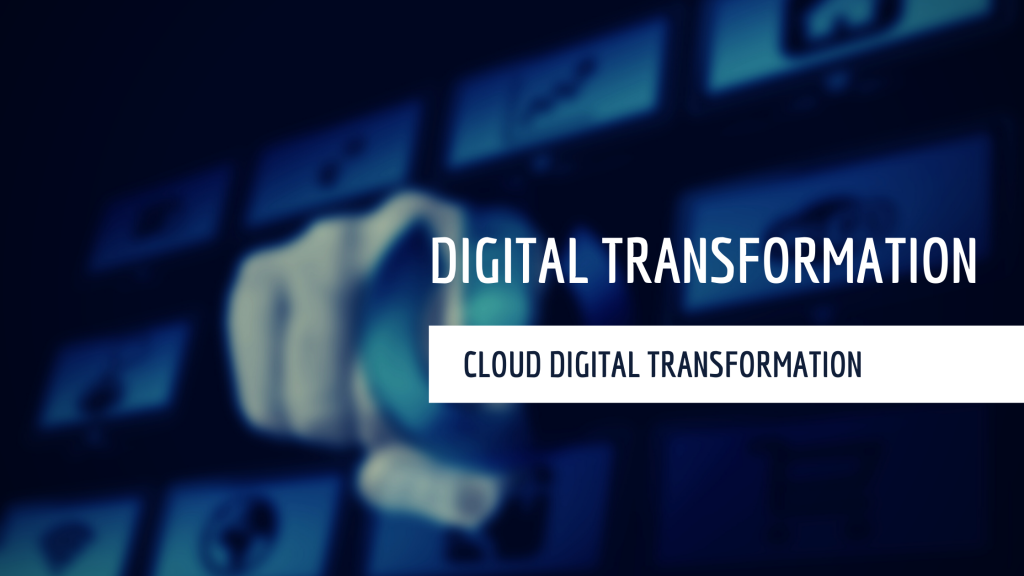 Cloud Digital Transformation-Overview

Digital transformation has become the latest buzzword in this ever-changing world. The world itself at large has become digital. Digitalization has brought with it a host of changes which has resulted in a paradigm shift in the way we do things. Imagine a person who lived half a century ago in the ages of letters and postcards coming back to life and witnessing these changes. For instance, nowadays we have instant messaging apps that can enable you to communicate with anyone in this world. As per a 2020 survey conducted by Gartner, more than two-thirds of the board of directors accelerated their digital business initiatives due to COVID-19.
What is Digitization?
Have you ever given a thought as to how you can save images and photos on your computer or smartphone or say how you can use instant messaging platforms to send a message? The underlying process in all these instances is digitization. Speaking in technical terms, digitization is the conversion of information in analog format to digital bitwise format.
Digitization enables you to preserve your old and nostalgic photographs that were taken years back on computers or tablets. Digitization is what makes it possible to send emails or instant messages as compared to writing and sending letters some twenty years ago.
Digitization is the technology that makes it possible to offload the burden and intricacies associated with managing your physical papers and files and enables you to scan and store a document as a pdf. Digitization is what makes it possible to store your workspace on the cloud. And of course, it is digitization that made you read this article on your computer or smartphone!.
How has Digitization Enabled Digital Transformation?

Digital transformation involves the embracement of digital technologies to redesign your business strategies and thereby becoming a part and parcel of this digital culture. It introduces an organizational and cultural change in the way your business operates and enhances your productivity.
Nowadays customers are becoming extremely tech-savvy and are breaking the barriers of demographics. So adopting digital technologies has become a matter of revival and survival as far as enterprises are concerned.
Digitization is enabling businesses irrespective of whether being small or large to establish and insert a greater influence on their customers. Organizations that are turning their back towards this transformation are indeed expected to lag behind and finally perish themselves in this competition. Yet still a lot of companies in slow paced Digitalization.
According to the Enterprisers Project, Digital transformation is the integration of digital technology into all areas of a business and thereby changing how you operate and deliver value to customers. It's a cultural change that requires enterprises to continually challenge the status quo, experiment, and get comfortable with failure. Let's have a look at some of the examples of digital transformation.
Examples of Digital Transformation

Digital transformation has had its impact on a wide range of areas. It's imperative to acknowledge this transformation and embrace it. Some of the businesses where digital transformation has inserted its influence includes

1) Banking and Insurance
Gone are the days when you needed to go to a financial institution to open a bank account, send financial assistance to someone through a money order, meet financial advisors and experts, etc. A bank or other financial institution that has adopted digital transformation can offer multiple services to customers that enable them to perform banking activities themselves, like opening an account, checking their bank balance, carrying out financial transactions, getting better updates on the latest services that are being offered, etc. The benefits of digital transformation can be leveraged in the insurance sector so as to better streamline the operations that enable customers to submit their requests for availing a policy, make premium payments, renew their policy, get updated about the current status of a policy, etc. According to REVE chat, the Commercial Bank of Kuwait (CBK) is a bank institution that is a very good example of digital transformation.

2) Sales
The Digital boom has facilitated easy and better access to data. Gone are the days of analog storage mechanisms. Digital storage has seen a new revolutionization with the arrival of cloud storage. This enables large amounts of data to be collected thus enabling the marketing and sales teams to enhance their productivity and efficiency. Marketing and sales teams can exchange information through applications that are dedicatedly designed for Customer Relationship Management (CRM). Better flow and access of information enables the prospects to be addressed at the earliest.

3) Retail
Today is the age of eCommerce. Now you need not go to a shop with a wallet that is filled with gift cards rather than money. You need not worry about the safe upkeep of liquid cash. Better digital technologies in retail have equally benefited both the consumers and the producers. Digital payment has enabled shoppers and customers to make payments through smartphones. You can show your phone at retail counters and checkouts to avail discounts. Retail management system contains applications that can perform inventory management, Customer Relationship Management (CRM), etc.

4)Health Care
Nowadays, Artificial Intelligence (AI) based technologies have been widely deployed for medical diagnosis. These are used for medical imaging applications like tumor and cancer detection, determining the severity of the tumor, like whether being a benign tumor or a malignant tumor. Portable smart health devices which can monitor blood sugar levels, oxygen levels, and a variety of other allied health parameters are readily available. Thus the growth of digital initiatives has facilitated mechanisms for better patient care and monitoring.

Benefits of Digital Transformation
Digital transformation provides a host of benefits to organizations. Some of these benefits are.

1) Improved Operations
Embracing digital culture can improve the efficiency and productivity of your workspace and workforce. Employees need not sweat it out with the odd manual processes or tasks. The digital culture is largely composed of ever booming technologies like Artificial Intelligence (AI), Machine Learning (ML), Cloud Computing, etc. The transformation to a digital culture starts with each and everyone in an organization. Some companies are driven by fear and consider this transformation as a curse rather than a brighter investment. If a significant amount of your workforce is not interested in accepting and experiencing this imminent change that can badly hamper your business and your future prospects.

2) Customer Engagement
The ability to provide better customer engagement is what forces more and more enterprises to embrace digital transformation. Customer Engagement is always at the core of digital transformation. A Gartner survey reports that more than two-thirds of companies are competing on customer support. Digital initiatives can enable enterprises and businesses to collect and analyze customer data and trends. This data can enable you to gain greater insights into the customers. These data can enable better forecasting of the future trends that can help you to devise a future roadmap. Customer-centric strategies can be adopted by analyzing these data as they can enable you to identify the customer needs.

3) Higher revenue
According to a report by SAP Center for Business Insights and Oxford Economics, about 80% of organizations that had accomplished digital transformation reported an increase in their profits. Digital transformation enables your enterprise to work more efficiently, make timely decisions and implement them, enhance agility, etc. So the bottom line is an increase in your revenue. You will also be able to identify better marketing initiatives for your products and services and thus capture customer attention and thereby result in better lead generation. The use of big data analytics tools can help you to gain greater insights and evaluate the future trends which can be capitalized on to generate higher profits.

4) Improved Supply Chain Management
The use of digital technologies can help an enterprise and its customers to gain better insights about the shipping time required for a product, better management of vendors, and a better understanding of the overall underlying process starting from its raw material stage to its very delivery. Technologies like the Internet of Things (IoT), Blockchain, Artificial Intelligence, etc have resulted in better management of the supply chain and enhanced logistic capabilities.

Final Thoughts

Digital transformation has become a necessity rather than a choice. This transformation cannot be achieved one fine morning. It is a gradual and steady process. Transformation to the digital level will indeed be a smart investment in the long run as it provides you several benefits with a better and enhanced customer connection.

Activelobby's cloud services can help you devise the future roadmap for analyzing, planning, adapting, migrating, and managing cloud services. Our cloud adoption services provide you several benefits like reduced costs, optimized storage, computational capability, the ability to scale your storage based on your business needs, and thereby making your workspace scalable. The management of cloud platforms is a never-ending process as long as you continue to use them. Once you have availed of our services, we can get it managed for you. We use industry-proven tools and practices that enable better monitoring of your cloud platforms, ensure better security compliance, enable remote repair and troubleshooting services. Our DevOps practices use the best-in-class automation tools that facilitate a smooth transit to the cloud space. Our migration services enable your data kept in storage-constrained servers to be migrated to other servers. Our disaster management services ensure 100% safe upkeep of your data as we have best-in-class backup mechanisms and standby servers to ensure that neither your data nor your operations are compromised. Indeed your path to digital transformation will be smooth with Activelobby's service.