Digital Transformation Key Drivers and Disruptors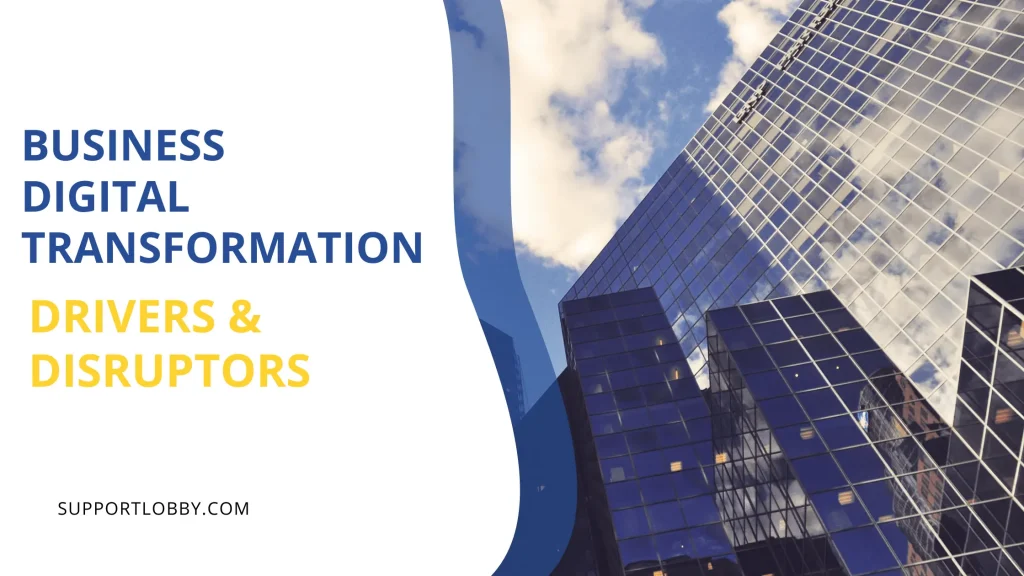 Digital transformation involves the integration of digital technologies into businesses thus striving to change the ways in which businesses operate and deliver values to the end-users. With transformation and evolution in technologies, a business is bound to embrace the changes and thereby ensure the transformation of its operations.
A strategic approach to Digital transformation helps a business to evolve themselves and thereby face the ensuing business challenges. The digital transformation thus enables a business to ensure that its operations are future-ready. It offers a business several hosts of advantages: enhanced productivity, improved customer experience, and better innovation. This ultimately drives the way for a business to gain a better return on investments (ROI).

Digital disruption
Digital disruption is a term to highlight the transformation and changes that occur in an industry in terms of its services and its value when new-generation digital technologies are embraced. The adoption of such digital capabilities is bound to change the status quo. For instance, the traditional telephones had given way to first-generation mobile phones which evolved over a period of time to give way to the new generation of smartphones. Most of the services around the world are on the path to digital disruption. For instance, in the banking industry, the adoption of fintech solutions has never ever seen such a rise as we see it today. This ultimately paves the way to change that is perceived as good.

What are the Drivers and Disruptors for Digital Transformation

1) Most Pressing Need

Digital transformation is one of the pressing needs of the hour as far as any business is needed. The relevance of having a digital-first policy or initiative is not confined to any individual organization but an entire industry or service as a whole. Many businesses are adopting new generation technologies like AI, cloud, big data, etc to pace ahead in this ever-competitive business landscape. The need to embrace a digital-first policy as well as enhance the digital footprint has resulted in businesses adopting new generation disruptive technologies. Embracing digital technologies helps a business to ensure that it becomes 'future-fit' in every sense.

2) Customer Expectations
Customers are no longer the yesteryear customers. The emergence of digital technologies has resulted in customer expectations changing with breakneck speed. Customers are more demanding nowadays. To meet the expectations of the new generation of customers, it is of utmost importance to offer a reasonable and good level of engagement to the customers. According to Business Wire, about 94 percent of the respondents believed that having a digital transformation initiative can help a business to have a positive impact on customer service.

3) Management of Costs

Gone are the days of hard work. Smart work is what helps a business to successfully face the ensuing challenges of the business landscape. Adopting digital technologies has enabled businesses to drastically cut down their cost overheads and expenditure. For instance, the deployment of Artificial Intelligence (AI) has enabled businesses to get around the need to maintain an in-house customer team as well as minimize the reliance on human assistance and thus provide round-the-clock engagement to customers through the usage of automated voice assistants and chatbot services.

4) The Enabler to Future

A successful digital transformation strategy is characterized by the right combination of people, processes, and technologies. Human resources combined with the smarter new generation technologies and processes will be the defining moment that drives the way to change. Technologies that are at par with human thinking and decision-making processes are redefining every service around the world. Self-learning and cognitive technologies like AI and Machine Learning (ML) are seeing large-scale deployment in businesses. Technologies like the Internet of Things (IoT) have made it possible to exchange information between inanimate objects. The usage of big data analytics solutions helps a business to foresee the business and market trends. Thus it can be said that digital transformation serves as a fulcrum of new-generation digital technologies that shows a business the gateway to the future.

5) Speed and Agility

Speed and agility are some of the vital factors that decide the success of a business. The business demands and the customer requirements are changing non-linearly. Once a business comes with an appropriate strategy to address an opportunity, the technology and business world at large would have transformed unimaginably. The only way to address such a situation is to be fully equipped with the best set of resources. Here is where the relevance of having a digital transformation strategy in place becomes extremely critical. A successful digital transformation strategy in place can help a business to address the changes in the business landscape on the fly.

Conclusion

Digital disruption is the change that accompanies and follows suit when the adoption of digital technologies affects the operational values of a business. Some of the key drivers to digital transformation are operational efficiency, cost management, business agility, varied customer expectations, and ultimately the need to remain competitive. Indeed a successfully implemented digital transformation strategy enables a business to drive its way to better productivity and improved profits.
We are an organization that offers cloud and allied services for organizations that are looking to make the transition to digitality. We help you adopt a digital strategy to drive your business goals by successfully implementing digital initiatives based on infrastructure transformation by using better and smarter technologies to revamp your business strategy.