Quick Tips to Help You Find the Best Outsourced Hosting Support Company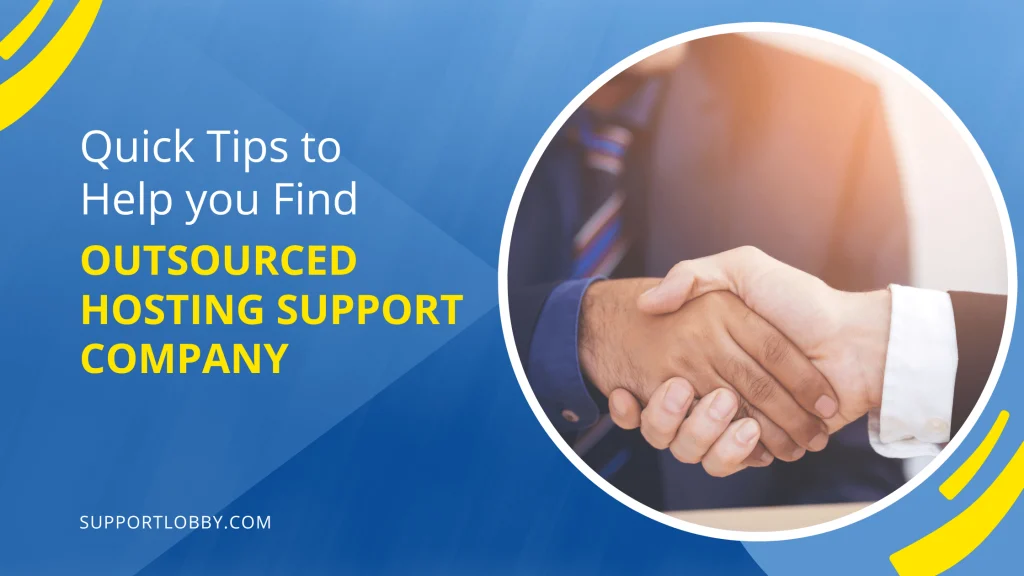 Choosing a web hosting support solution is a very crucial and critical task. Therefore it is extremely important to take into consideration a multitude of issues before deciding to go ahead with a service provider. As part of evaluating the services of a support solutions provider, it is good to avail the service of the support provider for an evaluation period, say six months, rather than getting into a long-term contract with the support provider and finding yourself in a stalemate situation.
Let us now see what are the important considerations to be kept in mind while choosing a web hosting support provider.
Find the Best Outsourced Hosting Support: Quick Tips
1) Market Reputation
Before choosing an outsourced web hosting support, it is vital to look into the reputation of the web hosting support provider. Ensure that they have a good track record of providing outsourced support services for several organizations. Consider going through the multiple forums and review sites as well as the testimonials offered by the customers that can help you to decide how advisable it would be to avail the services of that web hosting support company.
2) Faster Resolution
Resolution time is one of the most critical factors that should be given paramount importance while selecting a web hosting service provider. Faster resolution can ensure that the downtime is well kept under control. This can enable an organization to ensure the continual availability of services while keeping the disruption of their services to a minimum.
3) Contract Policies
Choosing a web hosting support provider is a critical process that requires careful planning, study, and introspection. Therefore it is worth taking a look at the contract policies of the service provider like Service Level Agreement (SLA), Non-Disclosure Agreements (NDA), etc. Reviewing the SLA can enable an enterprise to determine whether the minimum resolution time that is specified by the service provider is capable of satisfying its requirements. Also, ensure that the support provider is indeed capable of tailoring their services based on the requirements of the business.
4) Support and Assistance
A 24 by 7 by 365 support is an utmost necessity in the web hosting support industry. The better the support and assistance provided by a service provider, the more likely are your services to be available uninterrupted. A reliable web hosting support provider apart from providing continued assistance by enabling fast and timely troubleshooting of breakdowns and other glitches can also ensure better security and compliance from potential threats and other risks.
5) Clientele
While on the search for an apt service provider, it is good to take a look at the clientele of a web hosting support provider. The clientele sheds light on the track record of the service provider as it is an indication of the number of clients that the web host support provider has served and how many of them are top-notch key players. Endorsement by reputed companies can serve as a benchmark in deciding whether to go ahead with a particular support service provider.
6) Customer Support
Customer support is one of the crucial aspects that need to be paid attention to while choosing a web host support service provider. Ensure that the web host support service provider offers multiple channels for support that enable clients and customers to reach out easily. Some of the most important customer channels that the support provider should offer are live chats, emails, and helpdesk. The customer support team should also offer tiered support and assistance to the customers that ensure the escalation of critical issues to the higher tiers of the customer support team. This can ensure not only a fast resolution of the issues but also an effective solution.
7) Scalability of Operations
A web hosting support provider should be able to upgrade and downgrade the support services based on the requirements of a business. For instance, if a business is planning to scale up its operations, whether the web host support provider can also expand its operations with the varying requirements, or are they bound to only provide services as per the specifications of the SLA and other contracts. Choosing a web hosting support provider who can scale their operations according to the business requirements of a company can ensure better handling and distribution of the risks if the company were to expand its operations.
Conclusion
Outsourced Web hosting support services, like any other managed and outsourced support service, is a very crucial operation that demands thorough research and study of the various support provider organizations. Some of the important considerations that are to be kept in mind while choosing a support provider of web hosting services are its track record, operation scalability, technical support, and assistance, SLA, and other contract-specific conditions.
Activelobby provides web hosting support and migration services. As part of the outsourced web hosting support services, we provide server management and maintenance services. We support most of the control panels like cPanel, DirectAdmin, Plesk, Webmin, and hPanel, to name a few. We also provide web hosting migration services that let you migrate from one control panel to another control panel.