Server Management: Cost-cutting strategies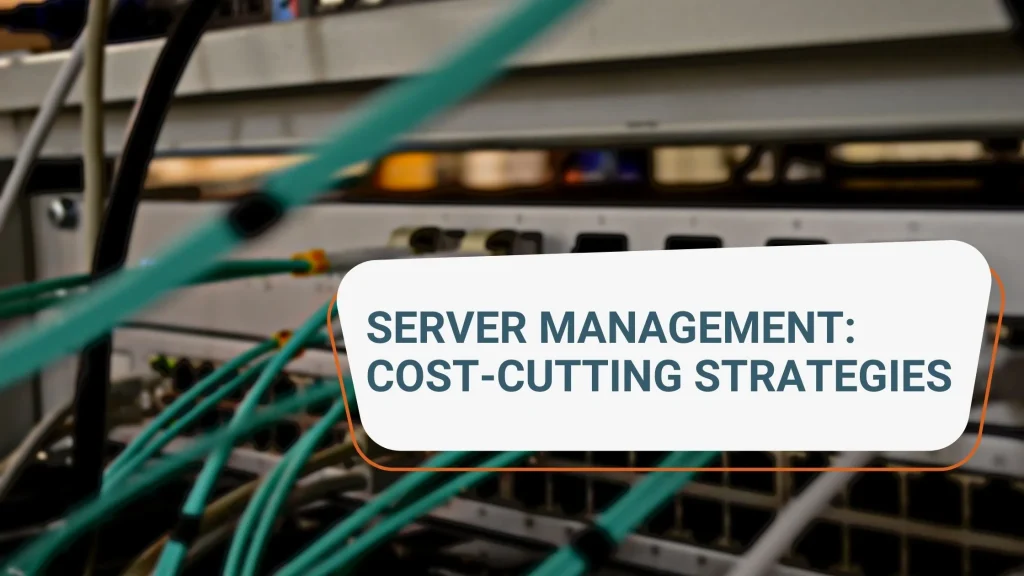 What is Server Management?
Server management refers to the supervision, management, and maintenance of servers that lets them operate at their safe and optimal performance. Server management deals with servers and allied areas like backup, security, software, and hardware management.
Why Server Management?
24/7 Server management emphasizes ensuring uptime, maintenance of a secure and compliant environment, ensuring the timely update of the software, tracking the applications that run on the server, and monitoring the traffic to detect any spurious activities.
Costs Associated With Server Management
1) Hardware Costs
As far as an on-premise server infrastructure is concerned, the cost overheads are associated with security, temperature control, space, power and electricity, hardware maintenance, and management.
2)Software Cost
The software can also contribute drastically to cost overheads. Proprietary software and it's license management can take a toll on your budget and savings.
3) Server Maintenance and Upkeep Costs
It is very important to ensure timely patching and updating of the servers. You can also consider outsourcing your server management functionalities. Most of the server management service providers offer automated server management solutions that can ensure better safeguarding of your servers from malware and other cyber attacks as well as ensure proper management of hardware that also involves the timely replacement of retired and redundant hardware.
Some of the Cost-Cutting Strategies for Server Management
1) Virtualize the Server
A virtual server focuses on hosting multiple servers on single hardware as compared to a conventional server that runs on a single machine. Virtualization thus enhances efficiency by reducing the hardware requirements.
Now, most enterprises are virtualizing their hardware by migrating to virtual machines, thanks to technologies like the cloud. A virtual server has an operating system that enables you to perform all the functions that can be done on a physical server.
Virtualization thus enables the user to have a high-end server that is capable of hosting multiple virtual machines. This enables a user to cut down their costs as well as leverage the capabilities of multiple virtual machines.
Server virtualization offers several benefits like reduced consumption of power, eliminating the need for the management of physical space and thus transforming those into effective office space, scalability of virtual machines, etc.
2) Storage Consolidation
Consolidation of the storage enables to enhance the efficiency apart from reducing the cost overheads associated with server management and maintenance.
Utilizing a storage area network (SAN) with a single data storage pool is much more efficient than having several servers with direct-attached storage.
A SAN is a high-speed network or subnetwork that is used to interconnect a shared pool of devices to multiple servers. Such a solution can provide better scalability, disaster recovery, and security.
3)Use the Latest Tools
Consider replacing or removing the redundant software and hardware as these can take a toll on your business efficiency and productivity. For instance, using redundant software like Windows Server 2008 or Windows Server 2003 can critically compromise your business operations.
Using the latest software can help to better accomplish your business functionalities and can cut down your cost overheads. It can also ensure better security compliance as they are subjected to auto upgrades. Also, consider replacing your redundant hardware as well as those which are on the verge of retirement. This can help you to cut down the energy consumption.
4) Avail the Service of Managed Service Providers
Server management is not an easy job. It requires a large amount of cost overhead to maintain and manage the servers and other related hardware. Also, dedicated in-house staff needs to be roped in thus resulting in burgeoning costs.
Availing the services of professionals for server management can help you to leverage the best solutions and thus eliminate the cost overheads. A dedicated server management service provider can review your requirements and analyze and understand your needs and can help you to choose an appropriate business plan or package that can best satisfy your current requirements.
The availability of managed service providers can help you to better manage and monitor the performance of your hardware. They can keep track of the hard disk storage space and ensure that the memory or RAM does not run out. They can ensure better operability and availability of different servers based on rack and blade. Thus managed service providers can offer solutions for the A to Z intricacies that are associated with server management and can help you to accomplish operations based on timely patching, provisioning, backup, monitoring, security auditing, etc.
Conclusion
Having a dedicated server management strategy can help you to save costs as well as ensure better upkeep of your servers and other components. Such an approach apart from eliminating the cost overheads can ensure better operational efficiency.
Activelobby provides web hosting management and migration services. Our managed services help you with the management of servers and control panels. We support most of the control panels like cPanel, Plesk, and FreePanel, to name a few.