Importance of SIEM in managing the cloud environment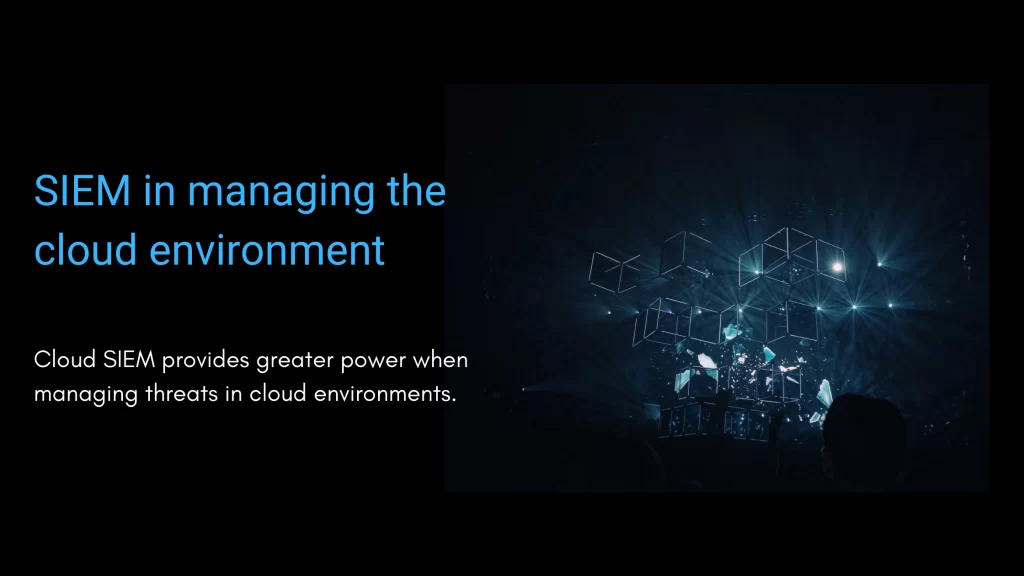 What is SIEM?
SIEM or Security Information and event management involve an approach in which security information management (SIM) and security event management (SEM) are integrated to serve as a unified security management system. SIEM is provided by vendors as appliances, software, or managed services.
The combination of SIM and SEM provides real-time monitoring as well as analysis and tracking of the key events and logging of security information thus serving as a solution that facilitates an organization to identify the potential security threats prior to them causing any business disruption.
SIEM deploys artificial intelligence techniques to automate many of the manual processes that are associated with threat detection and have become one of the latest trends in security due to its highly efficient orchestration system for managing newly evolving threats.
How does SIEM Operate?
SIEM collates the log data that is being generated from the various applications, networks, cloud infrastructure, or in other words the entire organizational infrastructure. It then brings the data together to a centralized platform. In this platform, the data collected from multiple sources are further normalized and aggregated. This is followed by the analysis of the data to sort out the threats.
This enables institutions to look into multiple alerts. The analytics solutions being deployed in SIEM will provide real-time alerts based on the detected events and incidents. The usage of AI, machine learning, and data analytics enable SIEM tools to offer enhanced user and entity behavior analytics as well as anomaly detection.
The SIEM tools could be used to generate security alarms when potential security threats and issues are detected. Based on the nature of alerts, they can be classified into high and low priority threats. Thus SIEM enables an organization to easily manage and ensure security by filtering the humongous amounts of data. Based on the filtering it could be used to prioritize the security alerts.
Merits of Deploying a SIEM System
1) Automatic Report Generation
Automatic report generation that throws light on the logged security events enables an organization to easily meet its compliance requirements. Thus SIEM enables organizations to get around the complexities associated with the need to gather log data and compile the reports manually.
2) Notification and Alerts
It is next to impossible for human beings to effectively monitor the threats. Deploying SIEM solutions enables an organization to effectively identify the threats and create automated responsive alerts and thus notify the security teams.
3) Incident Management
The SIEM system serves as one of the most effective approaches to incident management by facilitating an organization to easily unravel the possible paths by which an attack happens in the network as well as identify the compromised assets that served as a soft target for the attack to take place.
4) Enhanced Security Visibility
Most businesses are now relying on multiple networks. It may not be possible for a business to effectively keep track of all the networks. This presents an enhanced risk associated with dark spaces. These dark spaces are often exploited by attackers to trespass into any systems and thus compromise the security of the digital assets that are based on the organization. By collecting the data across the breadth and depth of the infrastructure, SIEM serves as a central hub for collecting and analyzing the data.
Demerits of SIEM
1) Expensive
SIEM solutions are often having the dubious distinction of being fairly expensive. It might demand an organization to make a lump sum investment to establish and implement such a system. Apart from implementing the system, it also requires an organization to invest in and hire expert personnel who can manage and monitor the systems.
2) Difficult to Manage
Though SIEM guarantees enhanced security, it is at the expense of complex systems that might require expensive management in place. As SIEM emphasizes a centralized system that can effectively collect multiple logs from the various applications, devices, and networks, the implementation is indeed a daunting task and is easier said than done.
Conclusion
Security Information and Event Management (SIEM) is a security system that combines security information management (SIM) and security event management (SEM). SIEM provides real-time analysis of security alerts generated by the various applications and network infrastructure. Such a security mechanism enables an organization to log the security data and generate reports for compliance purposes.
Activelobby is an ISO 27001 and ISMS certified organization. We provide cloud-managed services for clients. As part of cloud-managed solutions, we provide dedicated security services that help you to ensure the best safeguarding and compliance of the cloud workplace. We provide you with 360-degree monitoring of the cloud platform from the ensuing threats and vulnerabilities.