How does email migrations work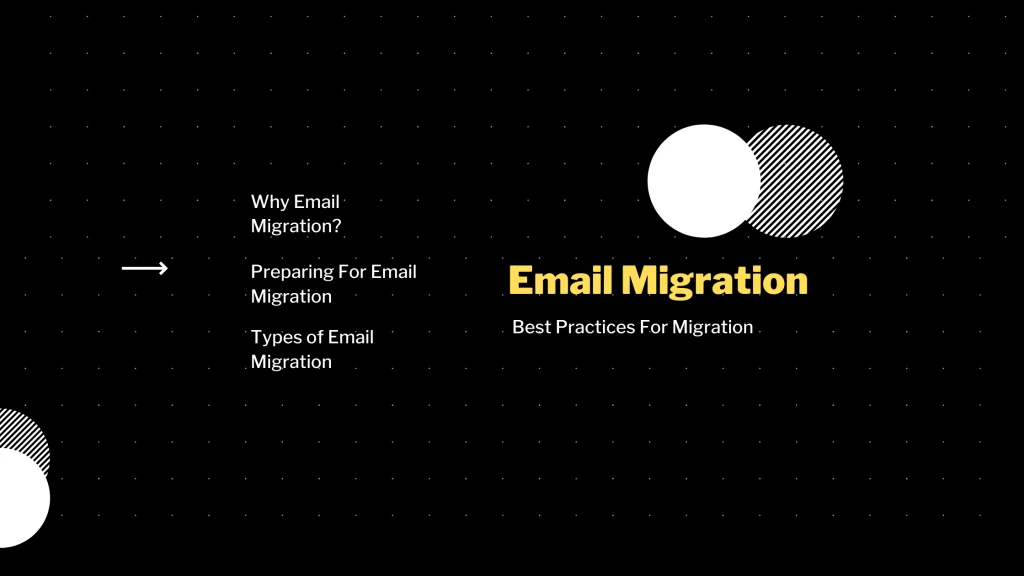 Email migration Overview
The world at large is now becoming digital. From instant messaging applications to real-time video conferencing solutions, digitization has made its indelible mark on the way we communicate.
Emails are one of the indispensable communication channels as far as 'anyone' is concerned. Electronic mail or email does not need any introduction.
About some twenty years ago, physical mail dominated the communication world. People were required to wait for days to get their communication done. The email came to be conceived as an alternate mechanism to physical mails and facilitates anyone to get their communication done most efficiently.
Email Migration
Often business enterprises switch from one email client to another. Email migration refers to the process of migrating emails from one email client to another. Email migration involves the transfer of emails and related data. It may also include the migration of contacts, calendars, and other services from one email provider to another.
Why Email Migration?
Email migration is usually done to improve the email environment based on which a system operates. Organizations migrate from one email client to another due to reasons like user experience, features, security, etc. It can also be due to factors like acquisition or merger.
According to the 2019 Office 365 Migration Survey by TechValidate and Zscaler, the primary driving reasons for enterprises to adopt Office 365 are reduced IT complexity, as opined by about 60 percent.
About 52 percent claimed improved application reliability, 50 percent identified reduced cost as the prime driver and 35 percent identified faster collaboration for adopting Office 365.
Driving Factors For Email Migration
1) Security
Email migration is often done to ensure better security from cyber and other malware attacks. Having a reliable email client ensures enhanced security and thus enables better management of your email data.
2) Efficiency
Legacy email systems, apart from posing grave security concerns, can also compromise your business operations as the email services may often go down. Migrating to trusted email clients can ensure round-the-clock services thus ensuring that your operations do not get hampered.
3) Integration
Most of the email clients provide services that help you to integrate with other tools. These integration capabilities can offer an enhanced experience to the end-user. For instance, Gmail users can schedule, start, and join the meetings directly from their Gmail accounts.
Best Practices For Email Migration
1) It is always imperative to have a detailed plan or roadmap. It includes identifying the email client you want to switch to, the amount of data that needs to be migrated and assessing the risks with all the concerned stakeholders.
2) For better seamless and flawless email migration to the target domain, consider using automated migration tools. You can consider using cloud-based solutions for migration as it provides a faster migration compared to installing software on your on-premise infrastructure. Some of the commonly used tools for email migration are Mailbird, eM Client, MigrationWiz, etc.
3) To avoid the risk due to erroneous migration, you can create a repository of your emails. Erroneous email migration may lead to business interruption due to unsynchronized email transfers, email duplications, etc. Choosing the right tools is a very important step to ensuring a successful migration.
4) While choosing a tool, you should ensure that it has the ability to keep your source and destination email systems working during the migration to ensure that it does not compromise the uptime.
5) To facilitate the transfer from one email client to another and to avoid problems due to data loss, use tools that support IMAP and POP3 protocols in order to enable accurate, continuous, and smooth migration of email data.
6) Double-check on the migration tools and solution as it is very important to ensure a smooth transition to the new environment as well as assuring better security. To be on the safer side, you can consider auditing the data and files prior to the execution of the migration process. This can also ensure better accountability.
7) It is important that you backup the data before migration if the process were to go haywire. Having an archive of your email data helps you to reinstate the services quickly if something untoward were to happen.
Preparing for the Migration
1) While preparing for the migration it is necessary to configure and update the DNS or the domain name system.

2) Identify the type of data that you need to migrate to the new email client.

3) If an enterprise as a whole is migrating to a new email client, it will have to reconfigure all the devices to the new email client.

4) Spam filtering is a very important process that cannot be overlooked. It becomes more and more necessary as you move further. Outlook and Gmail have in-built spam filtering mechanisms. If an inbuilt spam filtering mechanism is not available, you can consider using external mechanisms like Spameo.
Types of Email Migration
1) IMAP Migration
Internet Message Access Protocol (IMAP) is an application layer protocol that is used to receive emails from the mail server. It is the most commonly used protocol for retrieving emails. It can be used to manage multiple mailboxes and makes it very easy to download multiple attached files. It allows client emails to access the remote message stores and provides users remote access to all the contents. IMAP also enables users to get away with the need to allocate and use any physical storage to save the contents. IMAP4 is the current and the latest version of IMAP. Users can deploy Exchange administration centers or Exchange Online PowerShell to migrate the contents from an IMAP messaging system to Microsoft 365 mailboxes. The Exchange admin center is a web-based management console in Exchange Server that is optimized for on-premise, online, and hybrid Exchange deployments. IMAP-based migration transfers only the emails and not other apps like calendars or contacts.
2) Cutover Migration
In cutover or express migration, the mailboxes that are based on an email system are migrated to Office 365 in one single go. It is usually done when the on-premise Exchange organization has less than 2000 mailboxes. This migration allows at most 2000 mailboxes to be migrated to Office 365. This migration is used when a user is running Exchange 2010 or Exchange 2013.
3) Staged Migration
This type of migration is used to migrate the mailboxes in batches. This migration is employed if there are more than 2000 mailboxes and a user is based on Exchange 2003 or Exchange 2007. However, the support for Exchange 2003 and Exchange 2007 have stopped.
Finding the Right Email Migration Solution
Finding the right email migration solution is extremely important. Before the migration, you should analyze and outline what all needs to be migrated. Based on the requirements and constraints, you can consider availing of the services of third parties if you think so. An apt email migration solutions provider will ensure minimum compromise of your uptime and will execute the migration in a time-bound manner that adheres to the SLA requirements apart from being cost-effective.
Key Considerations During Email Migration
Some of the key considerations during the process of email migration are
1) Downtime
While accomplishing the migration process, it is important to ensure that the downtime is kept as minimal as possible.
2) Email Archiving
Email archiving involves protecting the email data to facilitate fast retrieval. Email archiving paves the way to better supervision, protection, and retention of the mission-critical data of a company.
3) Costs
Cost is a predominant factor that needs to be taken into consideration. A good approach to planning can enable an enterprise to have a check on their cost overheads related to migration.
Conclusion
Email migration involves the transfer of email-related data from one client to another. It is often done due to reasons like uptime, security, compliance, efficiency, and better accessibility to high-grade features.