Cloud in 2022: Edge, Automation, Industry-specific clouds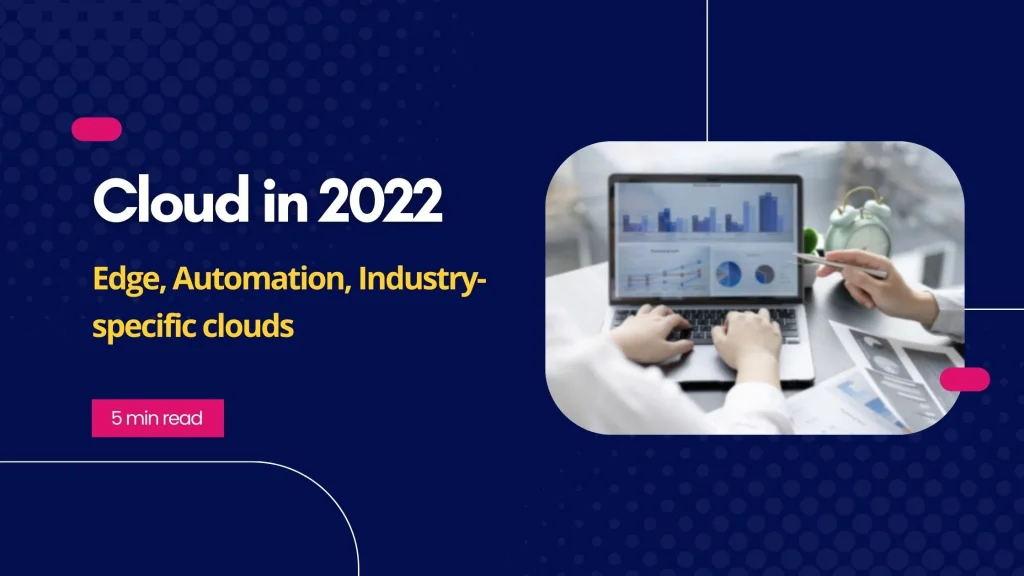 Cloud computing is scaling greater heights day after day. The rapid scale of digitization and the emergence of remote work culture have made the cloud the ultimate resort for businesses to rely on. Industry-specific clouds are becoming more common as more and more large-scale services are adopting the cloud.
According to Gartner, global cloud services spending is expected to surpass $482 billion in 2022. Bank cloud or cloud banking is a cloud-based solution that is available for banks and other financial institutions. Health Cloud is a cloud-based digital solution that is intended for health care service providers and hospitals.
Cloud computing is becoming more common nowadays as it can speed up the computation process by shifting the computation closer to the end-user. Cloud automation solutions are enabling enterprises to automate critical time-consuming operations thus doing away with the need for human monitoring.

This new year is set to see further adoption of industry-specific clouds, edge computing, and serverless computing capabilities. Let us now see some of the trends that are in stock for the new year.
Major Cloud Computing Trends for 2022
1. Edge Computing
Edge computing refers to the computation that takes place closer to the physical location of the user or the data source. Brining the computation closer to the data source, optimizes the applications and internet devices and also minimizes the long-distance client-server communications thus reducing the impact of bandwidth constraints.
Edge computing can also facilitate faster processing and data transfer thus enabling speedy operations. Edge computing thus paves the way to build and execute IoT solutions that guarantees better performance and reliability. Since edge computing brings the resources closer to the end-user it enables enterprises to deliver faster and agile solutions.
According to Frost and Sullivan, the edge computing market is forecasted to scale to revenue of $7.23 billion by 2024. The report also says that about 90 percent of the enterprise will embrace edge computing by 2022. Cisco predicts that edge computing, industrial IoT (IIoT), and 5G will drive businesses to enhance their revenues to about 55 percent in 2025, which was 30 percent in 2019.
2. Cloud Automation
Cloud automation emphasizes using processes and tools that can help in reducing the manual effort and interventions to manage and provision the cloud-based services and workloads. The conventional mode of operation and management of workloads is a very complex and time-consuming process that might involve repetitive tasks like configuring, provisioning, monitoring as well as managing the performance and availability of the resources.
Often these repetitive and time-consuming processes are associated with a lot of errors. Cloud automation can help an organization eliminate manual and repetitive processes thus enabling them to better manage and deploy their workloads.
Some of the common automated tasks are monitoring, security, configurations, development, deployment, resource allocation, and tagging. Automation can thus pave the way for better management and governance as well as facilitate better data recovery and backup mechanisms.
3. Adopting Industry Optimized Cloud
Many industrial services now rely on the cloud. Some of the industries that have widely embraced the cloud are financial services, automotive, healthcare, hospitality, education, retail, and manufacturing. Major cloud players are now offering industry-specific cloud solutions like bank cloud, health cloud, etc.
According to IBM, Bank of America is using industry-specific clouds to host key applications and workloads to support its banking operations. According to a survey conducted by Forrester Research, it was estimated that about 84 percent of the purchase influencers in North American manufacturing firms would accelerate the usage of the cloud. Forrester Research also revealed that about 77.74 percent of the purchase influencers in North American retail organizations and health care service providers identified the increase in usage of cloud services as a critical priority.
4. Multi-Cloud
As per the Flexera 2020 State of the Cloud Report, 93 percent of the companies have multi-cloud design and 87 percent have a hybrid cloud approach. With the cloud becoming the default workspace due to the emergence of a work culture based on remote and hybrid practices, most companies have started adopting multi-cloud models.
A multi-cloud approach enables enterprises to meet parameters like uptime, which are a constraint as far as relying on the services of a single cloud provider is concerned. The multi-cloud approach also paves the way to better and faster disaster recovery solutions.
5. Security and Compliance
Cloud security is still a concern for many companies. The latest cloud solutions are capable of addressing these concerns to a great extent. Solutions like Secure Access Service Edge (the term is coined by Gartner) is a technology that is used for delivering networking and security controls as cloud computing services directly to the source of connection like device, user, office, edge computing location, IoT device, etc instead of a dedicated data center.
Cloud also offers a faster and more reliable data recovery mechanism as compared to traditional systems. Security is often identified with digital identity and regulatory compliance policies. Using a digital identity as a benchmark for every device, person and all asset can ensure better security and compliance.
6. Serverless Computing
Serverless computing allows developers to deploy their code without having to worry about the underlying infrastructure. Serverless computing enables businesses to access IT infrastructure on demand without having to manage the infrastructure. Serverless computing is gaining large traction these days, as they enable enterprises to create applications faster without consuming any time or resource overhead.
Serverless computing thus enables companies to leverage the capabilities of enhanced computing at a lower cost. Such a model can enable companies to launch their services faster without overburdening their IT teams. Serverless computing, like cloud computing services, enables developers to purchase their backend services on a pay-as-you-go basis. Serverless should not be misunderstood as the absence of servers. In a serverless infrastructure, all the servers and other infrastructure complexities are handled by the vendor.
Conclusion
Cloud computing in itself is a trendsetter every year. In fact, it is extremely rare to find technology like the cloud whose adoption provides access to a multitude of other technologies!.
The emergence of multi-clouds and industry-specific clouds will further accelerate the adoption of the cloud. Indeed your prospects would be brighter if you have an evergreen technology like the cloud.
Activelobby provides cloud-managed and migration services. We follow a cloud-native model of application development that enables you to deploy the applications across multiple cloud platforms. So if you are looking to make the move to the cloud, you can consider availing of our cloud services.