Cloud-first strategy Explained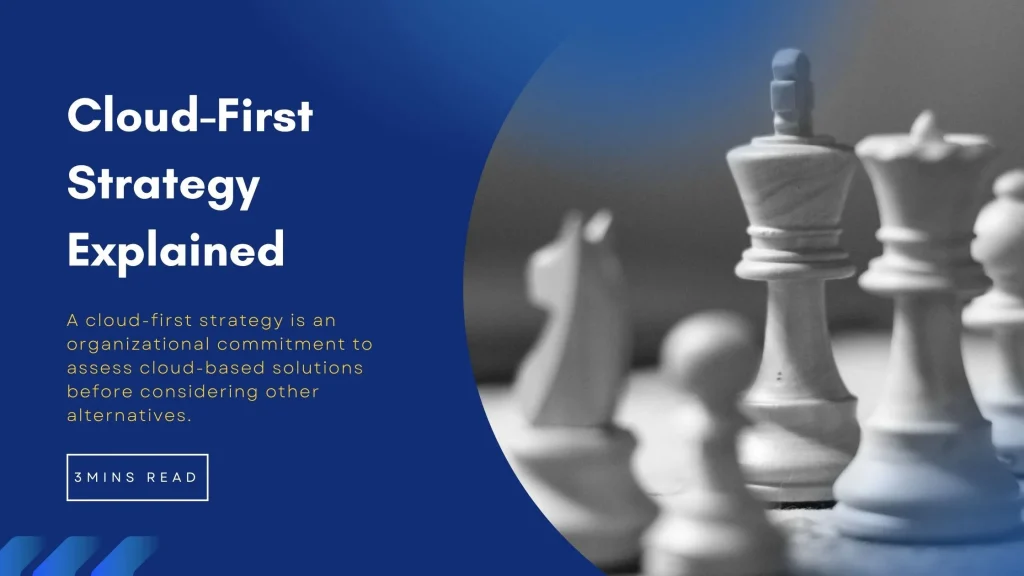 Cloud computing has gained a lot of traction these days. Cloud technologies have resulted in huge transformations in the way businesses operate. The transformation brought about by the cloud is very much visible when we see more and more organizations embracing digital technologies. Digital technologies have introduced a renaissance in customer support and services.
Customers are no longer what they used to be some ten years ago. Customers now do thorough research before proceeding with any product. Companies are competing with each other every second to bring out products that grab the attention of customers. The competition has skyrocketed and each new day brings us a different technology.
Cloud-First Strategy Defined
A strategic move by organizations to move their workloads and operations to the cloud is known as a cloud-first strategy. According to Gartner, a cloud-first strategy is an organizational commitment to assess cloud-based solutions before considering other alternatives. Unlike a cloud-only strategy, it doesn't eliminate other solutions, which allows for a greater level of flexibility.
Adopting a cloud-first strategy enables organizations to automate and virtualize applications thus ensuring better accessibility and security compliance. According to Gartner's research, cloud services are projected to grow by 80% in 2022. Gartner estimates the market size and growth of the cloud computing industry at nearly three times the growth of overall IT services by the end of 2022. Accenture is also investing heavily into Accenture Cloud First.
What is a Cloud Only Strategy?
A cloud-only strategy involves applying cloud computing to all the services and systems. All alternative solutions are eliminated. A cloud-only strategy, as opposed to a cloud-first strategy, has certain limitations like security, bandwidth, data migration, server management, etc.
Benefits of Cloud-First Strategy
A cloud-first strategy enables businesses and enterprises to leverage several advantages. Some of the benefits of the cloud-first strategy are
1)Reliability
Maintaining an in-house data center requires a dedicated post for a reliability engineer. Power and service outages can happen frequently. Power outages if gone unnoticed can hamper your services. Adopting a cloud-first strategy can dispense all these concerns. The onus of the maintenance lies on the service provider. The cloud providers can configure automatic backup and standby servers even if some of the hardware fails and brings down the data center.
2)Optimised Cost
Adopting a cloud environment enables you to save costs and reduce upfront investments (CAPEX). You can scale your resources based on the requirements and the payment system follows the 'pay as you go, model. Enterprises and organizations need not worry about the headaches associated with maintaining on-premise infrastructure like maintaining a storage room for housing the data center, ensuring optimum temperature requirements for CPU, etc.
The initial investments that you have made for adopting a cloud strategy will be worthy and can give you many returns in the future.
3)Security Compliance
Cloud security involves the protection of your data and application from deletion, leakages, thefts, and threats. A dedicated cloud service provider has the best-in-class security compliance systems in place, like penetration testing, tokenization, Virtual Private Networks (VPN), firewalls, encryption, or data anonymization.
This ensures that your cloud environments are protected from cyber fraudsters, Distributed Denial of Service (DDOS) attacks, malware, etc. A recent survey reveals that cloud infrastructure workloads have 60% fewer security concerns than traditional data centers.
4)Minimised Resource Requirement
Adopting cloud services can enable organizations to minimize their resource requirements. Organizations need not invest in pricey hardware and worry about their maintenance. Unlike an on-premise data center which requires dedicated maintenance personnel, adopting a cloud strategy enables you to offload the requirements for dedicated human resources required for the safe upkeep and operationalization of your hardware. Minimized resource requirements can thus enable you to save costs.
Wrapping Up
Adopting cloud services provides an organization with a slew of benefits. The unparalleled capabilities of cloud computing like storage and computation coupled with the growth of technologies like AI and ML have made organizations embrace the cloud.
Activelobby provides cloud managed services and cloud migration services. We have industry-proven tools and monitoring mechanisms to analyze your cloud service consumption.