Why Businesses Should Focus on Improving Cloud Infrastructure Efficiency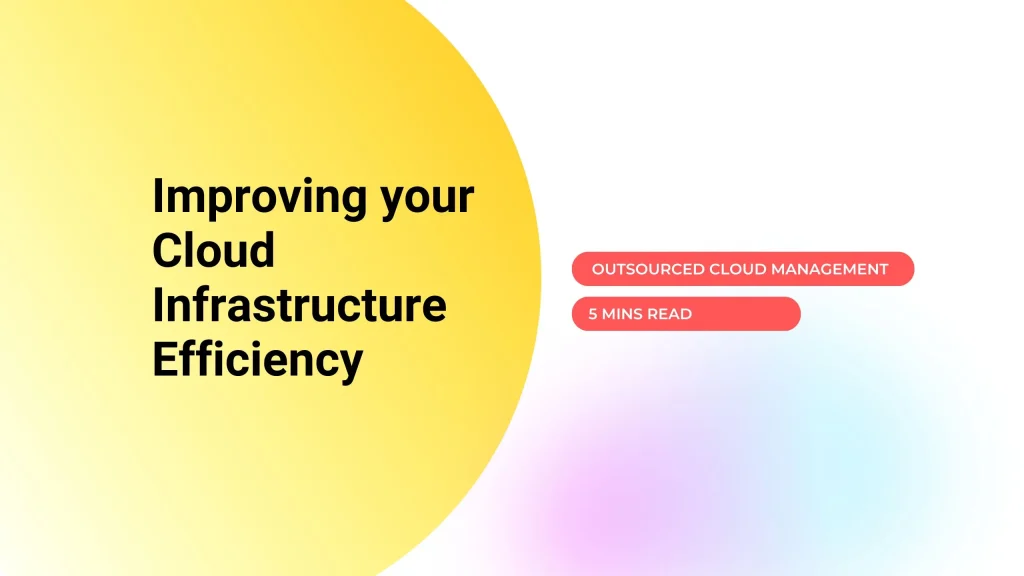 Cloud is something that has gained the traction of services that are outside the domain of information technology; banking, healthcare, hospitality, retail, e-commerce, and so on.
So now comes the question. Why are these services running behind the cloud?
The answer is enhanced operational efficiency, service availability, application mobility, lower cost overhead, and flexibility to change the underlying cloud environment based on the operational requirements, and above all offer the best service to the customers. But it may not be possible for an organization to excel in all its functionality equally. The journey to the cloud is a process that does not end with the completion of the migration. Cloud management is a process that lasts as long as you continue using the cloud. Outsourced Cloud Support and Management is a service Professional Technology companies offer that helps clients to have an efficient cloud infrastructure.
Advantages of Outsourced Cloud Support Services
1) Enhanced Management and Troubleshooting
Outsourced cloud support enhances and improves the cloud maintenance and management functionality that are related to troubleshooting, repair, and service availability. Managed service providers can ensure better management of activities and operations that are related to data, applications, and other services and ensure better-optimized availability of resources and enforcement of stricter security and compliance regulations.
Managed service providers use advanced solutions and tools based on network scanning and monitoring that can be used to block suspicious traffic. Also, managed cloud service providers have a large array of resources as compared to an in-house team within a company that has a limitation on the availability of resources. The managed cloud service provider can guide and direct in-house teams within an organization as to how they can best utilize their resources. In-house teams overburdened with their day-to-day chores often acknowledge an issue only if something goes haywire. Managed service providers on the other hand can easily detect and diagnose issues remotely.
2) Manage Remote Work
The covid pandemic has made remote work a necessity rather than a choice as far as the information technology world is concerned. A cloud hosting solution is a linchpin requirement for remote work as employees need to collaborate amongst themselves and access the proprietary applications of organizations. Cloud technologies can provide such a robust mechanism that enables employees of an organization who are based anywhere to carry out their day-to-day functionalities easily.
Managed service providers can offer a centralized cloud solution to companies by enabling them to easily manage and access their workloads and applications. Cloud service providers offer the best disaster recovery solutions that enable companies to easily manage and execute their functionalities easily and reinstate their services if something were to go wrong. They can also manage and monitor the incoming and outgoing traffic to and from the cloud environment which can enable an enterprise to ensure the safety of the cloud workspace.
3) Leverage the Best Expertise
If you are a newbie in the cloud world, it may be difficult to fully get accustomed to the operations related to the management, and monitoring of the cloud. Cloud-managed service providers are experts who may render their services to several organizations. So unless and until your in-house team gets to know about the full set of intricacies that are associated with the cloud, it is best recommended to avail of the services of managed service providers.
Managed service providers have mechanisms based on dedicated tools and solutions that help you with this task. Individual enterprises may not find it viable to deploy such tools or hire such resources. Your in-house team can learn from them the art of cloud management and monitoring and that can help you to gain the expertise to ensure the best security of your cloud platform as well as accomplish easy and fast troubleshooting of the services.
4) 24 by 7 Availability
Outsourcing to reliable cloud-managed service providers will ensure the availability of 24 by 7 support. These support providers will have their staffing deployed and arranged in such a way that they can address their clients concerning any technical support and assistance. So it does not matter what time it is; there will be dedicated staff who are there to provide the required assistance to the client organizations round the clock.
5) Security
Security is still a deterrent factor that acts as a roadblock in the transition to the cloud. But most of the statistics claim that cloud security has been improving over the years and ensures more safety and compliance as compared to on-premise-based workspace management. Investing your time and energy into security and allied operations may require you to compromise the time for the daily chores.
Most of the service providers deploy the latest cloud security measures based on encryption, top-of-the-perimeter firewalls, double or multi-factor authentication (MFA), intrusion detection with event logging, etc. Managed service providers employ dedicated solutions and tools that can provide complete visibility into the cloud environment that enables client organizations to monitor any spurious and suspicious traffic in real-time. They can also ensure regular patching and updating of services and applications that ensure better resistance from cyber attacks. Some cloud service providers deploy multiple layers of security that can be leveraged by small and medium-scale enterprises to access the best security solutions that are at par with those employed by large companies.
6) Uninterrupted Access
Most of the cloud service providers offer flexible services that enable a client organization to upgrade or downgrade their current service levels based on their business requirements and day-to-day operations. Cloud-managed service providers can offer a range of customized services based on the needs of the clients concerning operations like platform management, application maintenance, network, and performance monitoring, etc. They can provide assured and guaranteed response times and enable an organization to ensure sufficient uptime for the availability of their services.
Conclusion
The work environment and requirements are changing. Unlike the yesteryears, the relevance of a physical workspace environment is gradually losing its sheen. Cloud-based virtual environment solutions are becoming more popular. Outsourcing the management of the cloud platform to service providers can enable an organization to not only exploit the advantages of the cloud but also ensure better operational efficiency.
If you are looking for cloud support solutions you can avail of Activelobby's Cloud services. We offer cloud migration services for organizations that are looking for cloud adoption. Our cloud management services can help you with the easy maintenance and management of the cloud platform that can ensure better compliance and security.